This is a quick guide to SPLASH 2022!
When you arrive at the Auckland Airport, after you pick up your luggage, you will go through customs. Ensure that you do not bring any food of any kind or risk $400 spot fine as well as any other quarantine issues. Notice that as you come up to the customs officer, there are boxes and boxes of free RAT's — each pack contains 4 tests. Please take a couple of packs to last you the entire week of SPLASH 2022! We ask you that every morning you take a RAT test and bring along a photo of your [negative, hopefully] result to get a daily "I am negative" sticker. :-)
A reminder for any NZ citizens that free RAT's are available via online orders: https://www.health.govt.nz/news-media/media-releases/free-rapid-antigen-tests-now-available-home-testing Please organise to bring some along with you. :) Thanks!
The Auckland Airport is quite far away from the city (20-25 minutes by car without traffic or an hour or more during peak traffic). The Auckland motorways can get quite busy so please plan ahead. One of the cheaper ($17 NZD one way) methods to get to the city is probably by SkyDrive airport express bus (https://www.aucklandairport.co.nz/transport/public-transport) but it will drop you off 2 kilometers (a mile) away from the Grafton Campus with some hills on your way if you decide to walk rather than Uber.
Shuttle, Uber, or Taxi is probably your best bet in the order of price increases (https://www.aucklandairport.co.nz/transport/taxis-and-shuttles) - shuttles can be as low as $25 NZD and taxi can be easily $100 NZD one way - while Uber will be somewhere in between. Parking is very very very hard and expensive in Auckland Central so I would not recommend renting a car unless you want to spend $50 NZD per night to park it. :-)
Personal recommendation: Take a SHUTTLE directly to your destination hotel (Cordis or Dorms).
Cordis has 24 hour reception. NZ is well known for its very early and strict check-outs - expect to be out by 10am in the morning from almost all the hotels or motels in NZ. Check in is usually at 2pm and no earlier. If you booked your own hotel or AirBNB - please follow the instructions sent to you.
For the Dorms, the checking is 2pm and check out is 10am but the reception is only open on workdays Monday to Friday 8am to 4pm. So we have been promised by the dorm manager to help with check in arrangements for those of you arriving on the weekend or as early as 1st of 2nd of December of the week prior. You may need to spend a night or two at a different dorm for the first couple of nights as the large Grafton Hall only opens for 50-100 attendees or more. We do have quite a lot of people staying at the dorm so you will be surrounded by SPLASH 2022 attendees (we had around 900 room nights sold for the dorms and similar levels for the Cordis).
NOTE If you are stuck, you can call the general chair, if you want my NZ mobile number, I am happy to share it with you if you email me and include your registration number before the conference starts. This way you can call me if you have issues checking in. GC will be in Auckland 2-11 December and will stay at Cordis shared room. :)
To minimise risks of COVID spread, masks are REQUIRED indoors at ALL TIMES at SPLASH 2022. Please wear them and if you eat or drink - you can take it off, drink/eat, and put it back on. Think SPLASH 2021 in Chicago when there were ZERO COVID cases as a result. We want to repeat that feat. All food is designed to be taken outside where we will have marquees and bar leaners and (hopefully) warm Auckland summer weather for you!
We have free breakfast every single day of SPLASH 2022 starting at 8am! So you can get your first free breakfast at the dorm, then second breakfast at the conference venue - like all the Hobbits do:
So if you come to the main conference venue at Grafton Campus: https://goo.gl/maps/VFkEpedDeqwA96pq7 from 8am any day you can see RegMaster desk and get your badge etc.
There is "eduroam" available and you can get special guest wifi details at the registration desk if you do not have access to eduroam.
Please note that our badges will have special markings for CATERING STATIONS: there will be GREEN and RED stickers for anyone without dietary requirement and you will need to use the catering station in the designated place for GREEN or RED throughout the conference to minimise the congregation of people to avoid COVID.
On your bagde if you do not have special dietary requirements you will have, perhaps confusingly to train your attention: CS1 (Catering Station 1) for GREEN in the Front Building and CS2 (Catering Station 2) for RED in the Back Building.
There are two buildings we are using: the main one and the back one. The main one has the two large lecture theatres and posters reception - this is where you register etc. The back one has unlimited amount of rooms available where we use lots of small rooms.
GREEN will eat in the Front/Main building and RED will eat in the Back building with all the small rooms. Anyone with special dietary requirements will go to a special third catering station in the Front/Main building.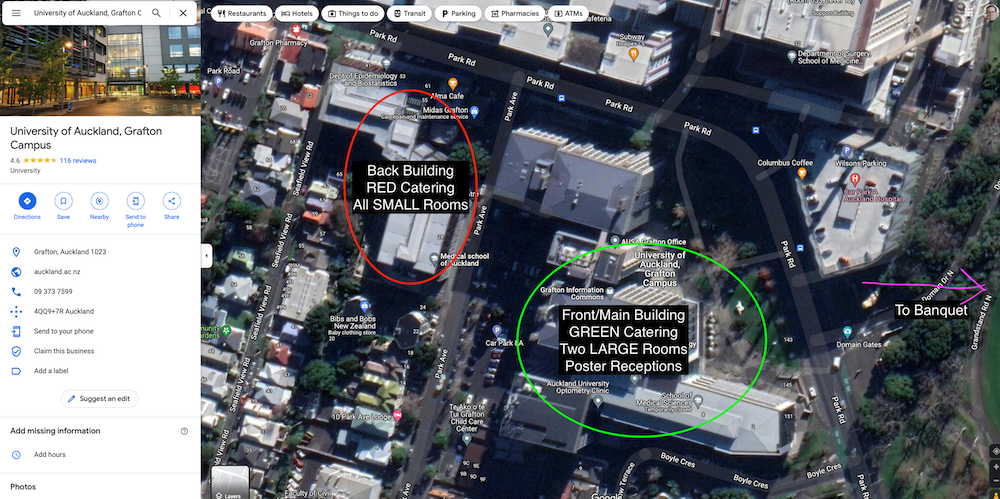 Front building is M&HS Building 505: https://maps.auckland.ac.nz/auckland/39a7034bd4e04f49b06c6762/details/356dd77d1c694521aee267af
Back building is M&HS Building 507: https://maps.auckland.ac.nz/auckland/39a7034bd4e04f49b06c6762/details/7b2bf607d6da426184abb0eb
Finally, free coffee/tea station will operate throughout the day so you can get it any time between 8am and 5pm. There will be one in each of the two buildings.
Monday and Wednesday have poster and SRC receptions in the main front building with small amounts of food provided. Thursday has the main banquet at the Auckland Museum - a short walk across the Auckland Domain Park (https://goo.gl/maps/ts5ua3qQpxNMiJek7). The banquet is open to ALL attendees registered for OOPSLA including all students. The time is 6pm to 10pm with entertainment provided by a comedian (https://www.comedy.co.nz/comedians/profiles/china-gonzalez/) and a fellow University of Auckland professor and his students who do live music coding (https://profiles.auckland.ac.nz/f-morreale) - both are going to be a blast, so please do not be late! (UPDATE: Due to our professor catching covid, we had to replace live coding part with an alternative. :-( )
We don't use any other digital platforms other than Airmeet (https://www.airmeet.com/) to Keep It Simple Silly. Organisers and SV's use Discord but only internally for any emergency communications - there are not attendees on Discord and there is NO ZOOM. All registered attendees will get an account on Airmeet (like you did at ICFP 2022) to join any talks remotely or while using your laptop in person - both to view/record videos and ask questions. See speaker instructions for more information: https://2022.splashcon.org/attending/speaker-instructions
SPLASH 2022 Airmeet Page:
https://tinyurl.com/splash2022virtual
On the last day of the conferences, on Saturday in the afternoon tea break 3pm - 3:30pm there will be free ice cream to enjoy during the warm Auckland summer weather!